We are going to tell you how to make SOPES, a tasty and unique Mexican dish that can be served as an appetizer or main course.  One thing is for certain, once you've tasted a sope, you'll be hooked!
Similar to mini pizzas, or tortes, SOPES are round, thick, dense corn cakes easily transformed into delicious treats.
We use prepared SOPE rounds that you buy in your grocer's refrigerator (next to the Mexican cheese such as queso blanco and quesadilla melting cheese.)
The word "sope" is similar to "sopa", which is "soup" in Spanish, but it is the torte-style sope we speak of here.
  PLAIN, uncooked SOPES…
…Look at how many ways there are to top sopes and create a culinary delight:
Hussongs Cantina sopes, pictured above.
Below, Supremo brand sopes all dressed up and ready to serve.
Guests can assemble sopes, using leftover chicken and fresh ingredients.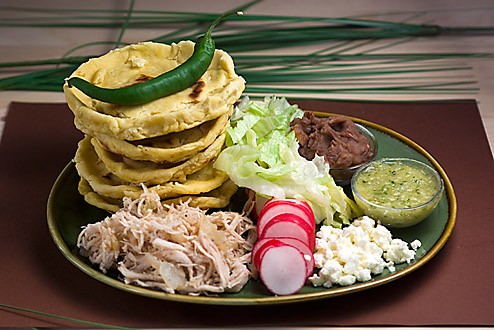 Credit: Honest Cooking.com
HOW TO MAKE SOPES
You will need:
Package prepared sopes.  Find 10-12 count package in grocer's refrigerated area next to Mexican cheese such as Queso Fresco, a delightfully mild cheese used in many
  Queso Fresco
Mexican recipes
Large non-stick skillet
1/4 c. oil for frying
Plate lined with paper towels
Shredded rotisserie chicken
1 c. refried black beans
1 c. crumbled queso fresco OR quesadilla cheese
1 c. shredded Romain or Iceberg lettuce
1 c. avocado slices, sprinkled lightly w/lemon juice
Jar of chunky salsa
Creama Mexicano (see below)
[Note: Use any ingredient you have on hand to top sopes with.  Leftover BBQ brisket,  sliced fajita meat, fresh tomatoes, the sky is the limit!]
Method:
Follow sopes cooking directions by heating oil in pan over medium high heat.  Using metal kitchen tongs, cook sopes in batches of 3 or 4 until done.  Let sopes cook until golden brown and drain well on paper towel.

Once cooled, top each sopa with a portion of refried beans, shredded chicken, lettuce crumbled queso fresco, and salsa.
Top with 2 avocado slices.
Drizzle with Creama Mexicano for a finishing touch that will curl your toes with delight
 Grade A Table Cream such as Crema Mexican by Cacique adds a touch of elegance and fabulous flavor when preparing SOPES.  We found this product at our local Kroger.
   We also love a recipe from The Chubby Vegetarian, Home made Roasted Corn Sopes with Pumpkin Seeds and Smoky Salsa. YUM!
   Baked Sopes with Skirt Steak and Black Beans, from Evil Shenanigans.com